Remove iRacing Decal Stamps

PRO
When you upgrade to Trading Paints Pro, you can remove or override many decals, stickers, and parts that are normally stamped on iRacing cars. You'll unlock a special decal layer that is placed over your custom paint.
How it Works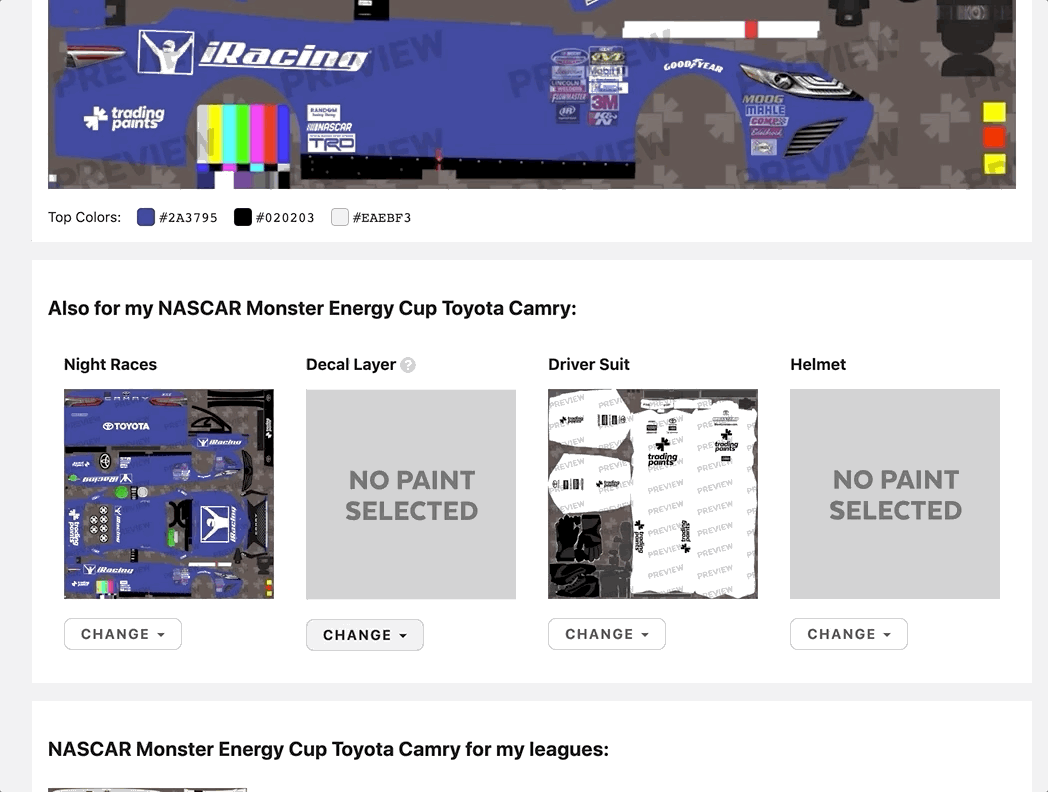 Frequently Asked Questions
What is a decal layer?

A decal layer is a layer placed over your paint scheme that's often used to show "forced" decals and stickers like contingency decals, manufacturer decals, and even parts of some cars.

Why would you want to replace a decal layer?

Removing or replacing your car's decal layer gives you greater flexibility in the appearance of your cars. Also, in cases of some racing leagues that require sponsor placement on all cars, it may be necessary to adjust, remove, or add decals to your custom paints beyond what a traditional custom paint scheme allows.

Is every part of the car accessible on the decal layer?

It depends on iRacing's rule for each car. For some vehicles, such as the Street Stock and Super Late Model, all areas of the car body including the headlights and grille can be customized. On manufacturer-specific vehicles like NASCAR Sprint Cup cars, some portions of manufacturer decals like headlights cannot be modified through the decal layer.

What type of files are decal layers?

Decal layers must be uploaded as 32-bit TGA files. If you'd like transparent portions of your decal layer so that you can see your paint scheme underneath the decal layer, you must mask an alpha channel to the portion you'd like to become transparent.
Ready to unlock your car's decal layer?
Just $23.99 for a 1 year Pro subscription