The custom car painting platform for iRacing.
Trading Paints adds custom car liveries to iRacing. Design your own cars or race with pre-made paint schemes shared from the community of painters.
iRacing Painting Templates
Download templates for painting your own custom iRacing cars.
How to use Painting Templates
Download & Paint
Use the software of your choice, like Adobe Photoshop or GIMP, to open one of the PSD templates below. Design the paint of your dreams and let your creativity run wild!
Or, use Paint Builder to design cars in your browser if you're a Trading Paints Pro member.
Save the Paint File
When you're ready to see your paint on the car, save a TGA file named car_yourid.tga for Sim-Stamped Number paints or car_num_yourid.tga for Custom Number paints.
Save the file to your Documents/iRacing/paint folder, in the corresponding directory of the vehicle (listed below).
Preview in iRacing UI
See your creation come to life in iRacing's 3D Car Viewer tool. Inside the iRacing UI, go to Cars under the My Content menu, choose the vehicle you're painting, and see your work in progress.
Each time you re-save your paint file, the 3D view will update to reflect your changes.
When you're happy with your creation and you're ready to share it with the world, upload your completed TGA file to either My Paints (your personal cars) or the Trading Paints Showroom (community showcase where others can race with your creation).
Next time you race, your new paint will appear for you and others in the session!
Oval Racing Cars
Road Racing Cars
Other Templates
These PSD-format templates are created, provided, and hosted by iRacing.
Sim-Stamped Number vs. Custom Number
There are two types of iRacing paints: Sim-Stamped Number paints and Custom Number paints.
No number is painted on the car. iRacing should stamp the car number.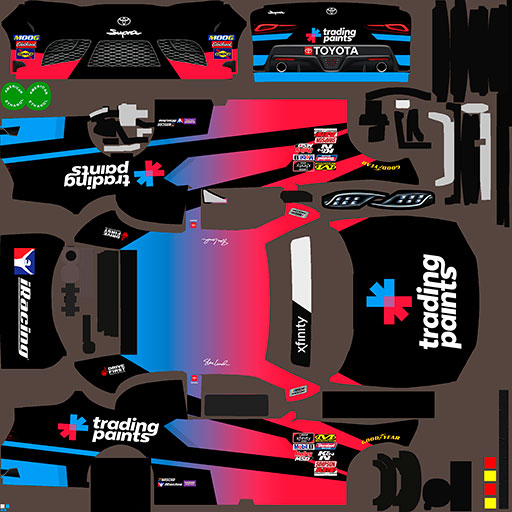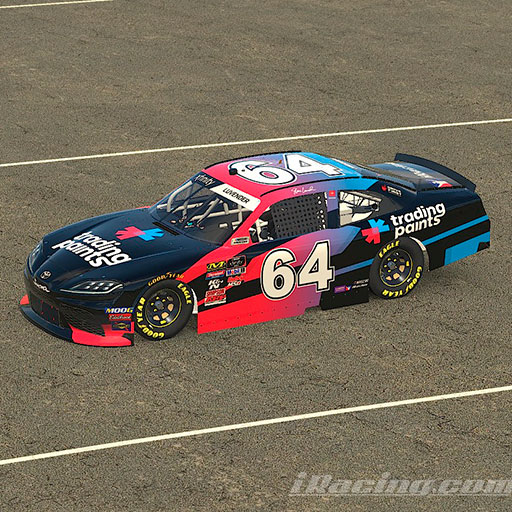 iRacing will stamp a car number on this car, regardless of what's designed onto the paint.
The number on the car will change to match the number displayed in iRacing's standings and results.
Drivers who do not have the iRacing graphics option "Hide car numbers" selected will only see Sim-Stamped Number paints.
If you have a Custom Number paint assigned, but a driver does not have the iRacing graphics option "Hide car numbers" selected, the Sim-Stamped Number car will appear as a fallback.
The car number is painted on the car.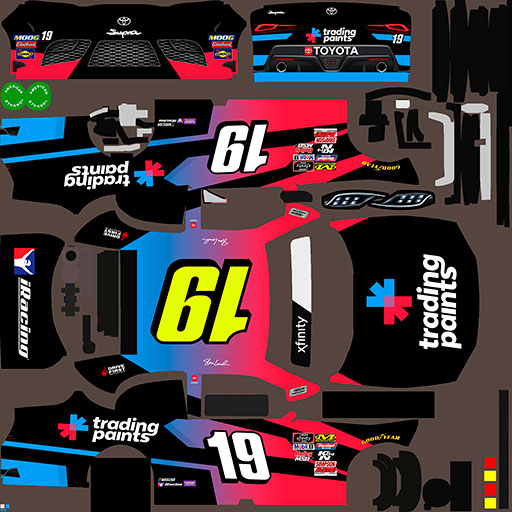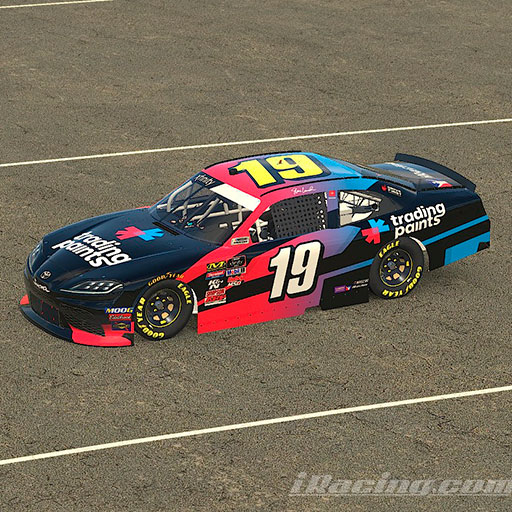 The iRacing sim will not stamp its own car number on this paint.
The number visible on the car paint may or may not match the car number displayed in the sim's standings and results.
A Custom Number paint takes priority over a Sim-Stamped Number paint.
Drivers must have the iRacing graphics option "Hide car numbers" selected in order to see Sim-Stamped Number paints in iRacing.